HARTFORD, Connecticut (CNN) -- Principal Steve Perry doesn't believe in cursory inspections. For him, every single detail matters. T's are always crossed, I's are always dotted. Shirts are always buttoned and tucked in.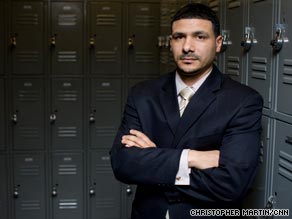 Principal Steve Perry's demanding approach, tough love and high expectations have paid off at Capital Prep.
During his daily morning hallway inspections, he reprimands a student not wearing the Capital Prep school approved sweatshirt with a "That's not our gray." He then quickly peers into another classroom to witness a student acting up. "Don't do it! Don't do it! Don't do it!" he warns sternly. The student retorts "Why not?" Perry knowingly looks at him and simply says, "You're the upperclassman" and with that, the student sheepishly walks away.
It's all part of the daily routine of tough love and high expectations at Capital Preparatory Magnet School in downtown Hartford, Connecticut. It's a public magnet school, with a college prep school attitude. As Perry says, "If you don't want to go to college, don't go to Capital Prep. Go somewhere else."
Perry's demanding approach has yielded big results. The school of just under 300 sixth- through 12th-grade students boasts a near 0 percent dropout rate. That's a stunning achievement considering Hartford is one of the lowest performing districts in Connecticut, a state with one of the largest achievement gaps between black and white students in the nation. According to the Connecticut Coalition for Achievement NOW, an educational advocacy group, black students in Connecticut are, on average, three grade levels behind their white peers.
Capital Prep, a year-round school that is more than 80 percent black and Latino, can boast of sending every graduating member of its senior class on to a four-year college. In the four years since Perry founded the school, he has sent 80 students on to college