A black woman's journey to the rabbinate in North Carolina........

When Alysa Stanton officially becomes a rabbi in June, she'll be walking into history.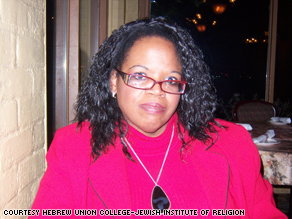 Alysa Stanton, 45, will become the first African-American woman to be ordained as a rabbi next month.
She'll become the first African-American woman ever to be ordained as a rabbi and the first African-American rabbi to lead a majority white congregation, according to the Hebrew Union College-Jewish Institute of Religion.
Stanton, 45, will be ordained June 6 in Cincinnati, Ohio, where she received her master's degree from the HUC-JIR, which is the rabbinical school of the Reform movement. Then in August, she will begin her new job at Congregation Bayt Shalom in Greenville, North Carolina -- long a Conservative synagogue and now affiliated with both the Reform and Conservative movements.
She describes her new position with great enthusiasm, saying the congregation -- while small -- has a lot of children, a sign of a bright future. And she says the congregation is vibrant and the region, where East Carolina University and a major medical center are located, is dynamic as well.
"My goals as a rabbi are to break down barriers, build bridges and provide hope," Stanton told CNN. "I look forward to being the spiritual leader of an inclusive sacred community that welcomes and engages all."
The HUC says the milestone reflects the diversity that permeates Jewish life.
Citing numbers from the Institute for Jewish and Community Research, the HUC-JIR says at least 20 percent of American Jews -- about 300,000 to 400,000 people -- "are racially and ethnically diverse by birth ... conversion and adoption. Approximately 20,000-30,000 marriages between Jews and African-Americansgrew out of the civil rights movement. "